nyloflex® Plate Making Equipment
nyloflex® plate making and processing equipment are combination or single units, comprising exposure, washer, light finisher, dryer and cutting table. Flint Group offers all you need to make a print-ready flexo printing form - flat or round - solvent or water or thermal.
nyloflex® equipment and ThermoFlexX are proven in combination with nyloflex® photopolymer plates & sleeves. nyloflex® plates can be used with all laser systems suitable for imaging flexo printing plates.
Exposure, Washer, Dryer, Light Finisher
nyloflex® equipment for solvent processing of flexo plates is available in different sizes for different plate formats. It is available for narrow web, mid web and wide web application. The smallest unit is labeld with FII with a maximal plate format of 810 x 660 mm (31.9" x 26.0") and the largest units are the FV units with a maximal plate format of 1320 x 2032 mm (52" x 80").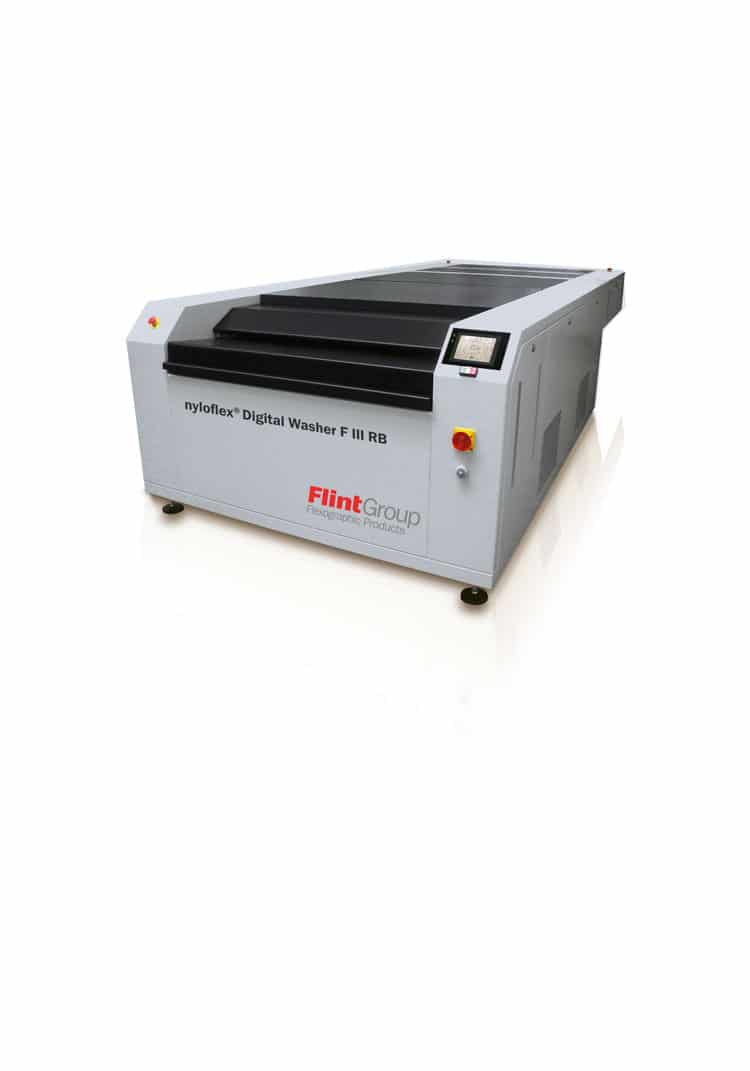 Thermal Processing Equipment
For processing of thermal nyloflex® plates Flint Group Flexographic Products offers the nyloflex® Xpress Thermal Processor. It compares innovative machine design with premium technology, manufactured in the US.
But the nyloflex® Xpress Thermal Processing System is a more than just a processor. It is a programme that is simple, clear and transparent.
nyloflex® NExT Equipment
nyloflex® NExT Exposure units are high-performance exposure units for precise image reproduction and the highest print quality with excellent ink laydown. High-intensity UV-A LEDs (>800 mW/cm²) and a constant output results in highest long-term repeatability. It requires no additional processing steps or consumables (no lamination, no film, no inert gas), thus avoiding additional risks and extra costs. The nyloflex® NExT Exposure is available in different sizes. In addition there are suitable washer, dryer and light finisher available.
Automated processing line for highest productivity
Improvement of productivity and cost reductions play an increasingly important role in the printing industry – automation is one way to impact significantly on achieving these targets. Today the flexo form making process is far behind efficient automation found in other competing printing processes like offset and gravure. Working with print-ready files, offset and gravure printing forms are produced today with a high level of automation. In the competition for printing jobs, especially of big brand owners and major supermarket chains, cost control and a consistently high and increasing quality standard are the key factors – Flint Group Flexographic Products focused especially on these targets when developing the nyloflex® Automated Plate Processor for flexographic printing forms.
nyloflex® Automated Plate Processor (APP) Fully automated processing line
Fully automated processing line for flexo plates combines a round brush washer with digital layer separation, a dryer including eight drying drawers, a unit for post exposure and light finishing (UV-A / UV-C) and a stacker with eight drawers, offering in total a capacity of up to 109 plates / 294 m² per day. Suitable for processing high quality photopolymer plates up to a maximum size of 1320 x 2032 mm (52.0" x 80.0") and from 0.7 mm to 7.0 mm plate thickness.
nyloflex® In-The-Round Equipment
For processing In-The-Round photopolymer sleeves, like nyloflex® Thin Sleeve and nyloflex® Classic Sleeve, Flint Group offers suitable equipment.The nyloflex® ITR Exposure can be used for main exposure of one or two ITR (In-The-Round) photopolymer sleeves. The nyloflex® ITR Processor is a compact system for the processing of up to 10 sleeves in parallel, inlcuding washer, dryer, post exposure and light finisher. It's compact construction requires minimal space.  Both are suitable for sleeves up to 1800 mm width / 1037 mm repeat.
Non-standard equipment, additional equipment or alternative electrical connections are available on request. For details and technical parameters of all standard and non-standard processing equipment please refer to the overview leaflets or to the respective equipment leaflet.